Quality management and quality assurance at Hanse Survey
As shipping experts, we have developed a quality management system, which is continuously adapted to the constantly changing market of shipping and, above all, follows a customer-oriented approach. For the continuous improvement of our quality management and for quality assurance, our employees receive regular further education and training. In accordance with the standard: DIN EN ISO 9001, the quality management system of our company is subjected to a strict and comprehensive annual audit by DNV (Det Norske Veritas), a member of the most important association of classification societies (IACS). Accordingly, Hanse Survey is certified for the area of "Maritime Surveys and magnetic compass adjustment and inspection".
What is quality management?
Quality management comprises the systematic planning and control of processes in terms of their quality. It includes all measures and activities aimed at maintaining and improving the quality of our products and services in order to work as efficiently, smoothly and error-free as possible. Our processes are customer-oriented so that they meet the requirements of the client.
What is the goal of good quality management?
The focus of our QM is to systematically set standards for our work processes and structures and to continuously improve them. Clear communication and "short paths" within the company are an integral part of this, which leads to work being carried out efficiently, and consistently. Our quality assurance is additionally supported by standardised and tested methods. These tools include an extensive list of in-house developed templates for the respective services (e.g. survey reports), which form a minimum standard in reporting, as well as our proven system for managing past projects and assignments.
How Hanse Survey lives out quality management.
In addition to compliance with DIN EN ISO 9001, Hanse Survey promotes a working atmosphere in which employees learn from each other and continue their education. Newly acquired knowledge and experience is shared within the company. Through this exchange of information, the level of knowledge about the quality standard of our services is always guaranteed to improve. At the same time, we rely on standardisation through digitalisation in our documentation and data processing. In addition, we "live" a system of mutual control and assurance (dual control principle) in the Hanse Survey company. Through this proven system, we ensure that our reporting demonstrates the highest possible level of quality while at the same time being free of errors.
Quality assurance according to DIN EN ISO 9001
Our quality management system is based on following principles:
Customer orientation and sustainable success: The customer and his requirements for our products and services are the focus for Hanse Survey. Therefore, the goal is to completely fulfil the customer's expectations or, at best, exceed them, while maintaining a cooperative and friendly approach.
Leadership: Our employees are led by their respective managers in accordance with the objectives, which ensures that they have a significant share in the company's quality philosophy. Management is responsible for assessing and providing the necessary resources to deliver our services. The management ensures the introduction, realisation, maintenance, further development and effectiveness of the quality management system and also bears responsibility for the system.
Commitment: Quality management will be understood as an objective for all employees of our company. Customer-oriented services of the highest quality are to be permanently provided through the unconditional commitment of each individual.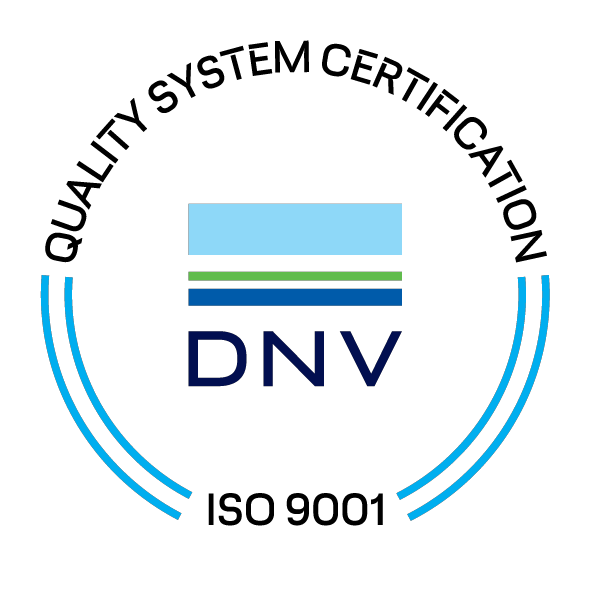 Process-oriented approach: The basis of every company is processes and workflows. That is why we at Hanse Survey continuously improve them and pay special attention to the interfaces of particularly error-prone processes.
Continuous improvement processes: We constantly optimise our workflows, processes and methods in order to minimise the risks of operational disruptions, hazardous events and accidents in the service process. A continuous improvement process (CIP) is indispensable for this.  To achieve this, our managers proceed systematically, identify the cause of errors and question the usual circumstances. Existing knowledge is maintained and expanded through targeted training, which ensures that existing knowledge is consolidated, new knowledge is acquired and knowledge is retained in the company.
Environmental protection and sustainability: Promoting sustainability is a goal of our organisation. Furthermore, we encourage our employees to strengthen environmental awareness and to actively participate in environmental protection.
Fact-based decision-making: In every company, decisions have to be made. To simplify decision-making, we use our experience, competence, intuition and support it with data, figures and facts. In doing so, we constantly take into account the applicable national and international legislation of the countries concerned.
Honest and appreciative cooperation: The best performance can only be achieved in a good working atmosphere in which fair and equal treatment of each other is promoted. We place particular emphasis on long-term relationships based on trust within the company and with our cooperating partners.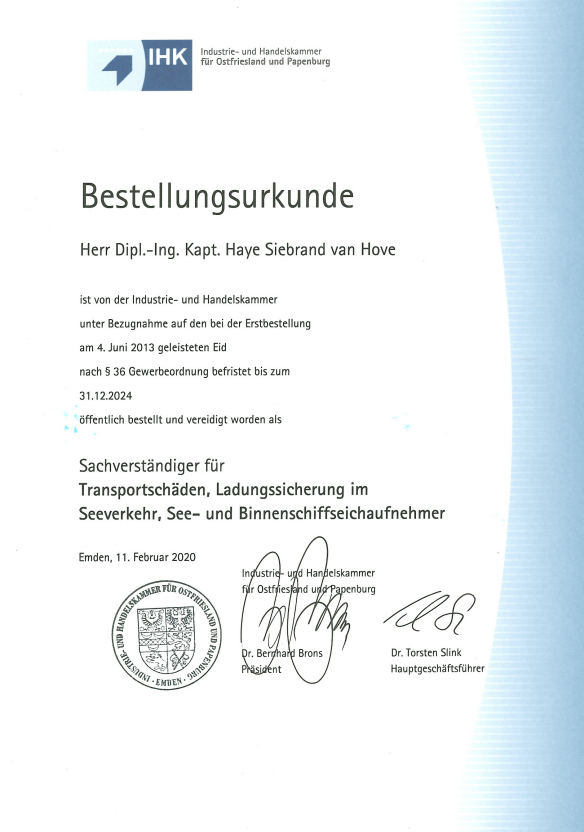 Publicly appointed and sworn experts
Hanse Survey is a maritime survey office publicly appointed by the Chamber of Industry and Commerce.
This public appointment has been officially equated with the standard: ISO 17024 since 2017. Nevertheless, in addition to our public appointment, we are also guided by the ISO standard. Based on this standard and our public appointment, we maintain effective quality assurance.
Success of quality management
These measures enable us to react particularly effectively, quickly, flexibly, and competently to the requirements of the maritime industry. Another advantage is the lean size of our company and the resulting direct business channels. This makes it possible for us to react particularly quickly to enquiries and to provide you with advice. If necessary, we are available for you around the clock.
If you have any questions about our quality assurance or quality management, please do not hesitate to contact us.