Calculation and design

–

Engineering for transport and maritime shipping 

 
As an experienced service provider specialized in the field of transport and maritime shipping, Hanse Survey can provide a wide range of Engineering Services. Building on many years of experience and with the use of state-of-the-art design- and calculation software, Hanse Survey will provide competent and innovative support.  Whether your project requires precise model design, detailed manufacturing documentation, or strength calculations, it is our mission to consistently deliver outstanding engineering services and provide customer orientated solutions which (naturally) comply with current industry standards, regulations, and norms. In close cooperation with our clients, our engineers will determine the relevant specifications and look at each project from different perspectives, e.g. customized / standardized procedures, time, costs, materials, feasibility, safety of work, etc. With the use of advanced computer-aided design (CAD) software and finite element analysis (FEA) methods for strength calculations we can prepare consistently high quality project documentation and are well-equipped to meet your requirements. 
Please find below an excerpt of our engineering services for transport and maritime shipping:
Cargo securing and load distribution: Safe shipping of project cargo 
We offer individual solutions for cargo securing and load distribution to ensure the safety of cargo during sea transport. We develop practicable solutions that ensure the professional and proper load transfer of the cargo into the vessel's structure and secure the cargo on board against the ship's movements and external forces at sea, preventing damage or loss of your cargo. In order to prevent damage to the ship or the cargo due to overloading or failure of the structural design, correct load spreading, especially on the tween decks and hatch covers, is vital. We determine the external forces that occur and the resulting stresses and create a customized solution for your cargo based on a bedding plan. The influence of cargo securing on the load distribution is not to be neglected and is always considered on a case-by-case basis and verified by calculation. Please contact us. We will be happy to work out appropriate transport concepts for your project.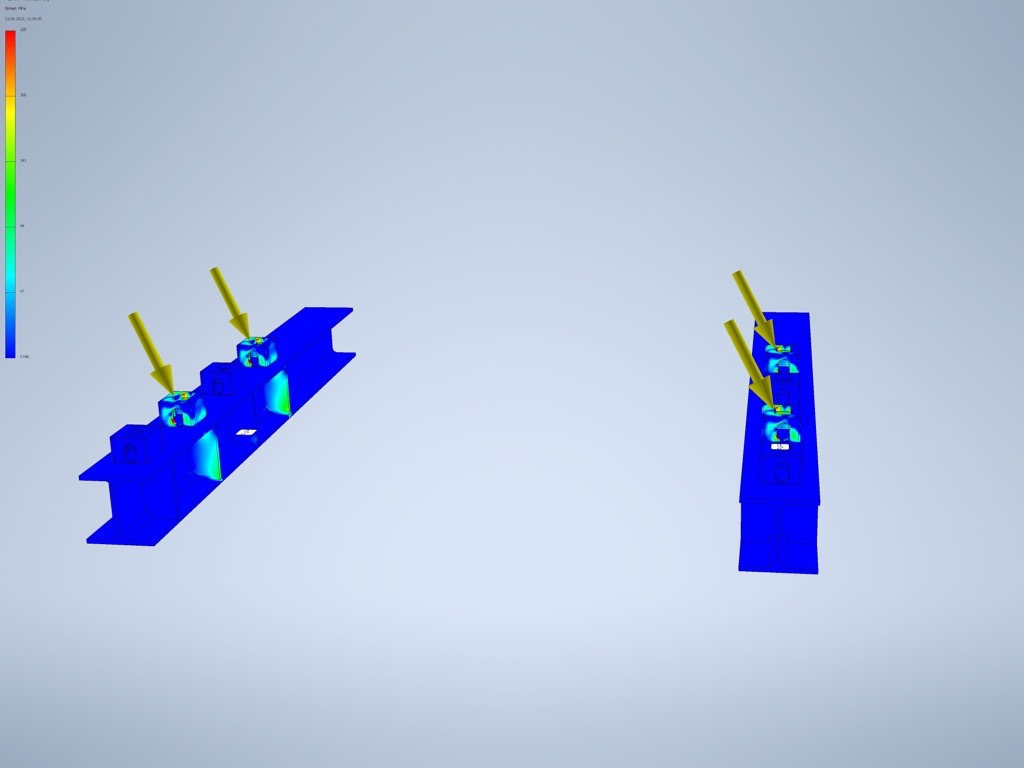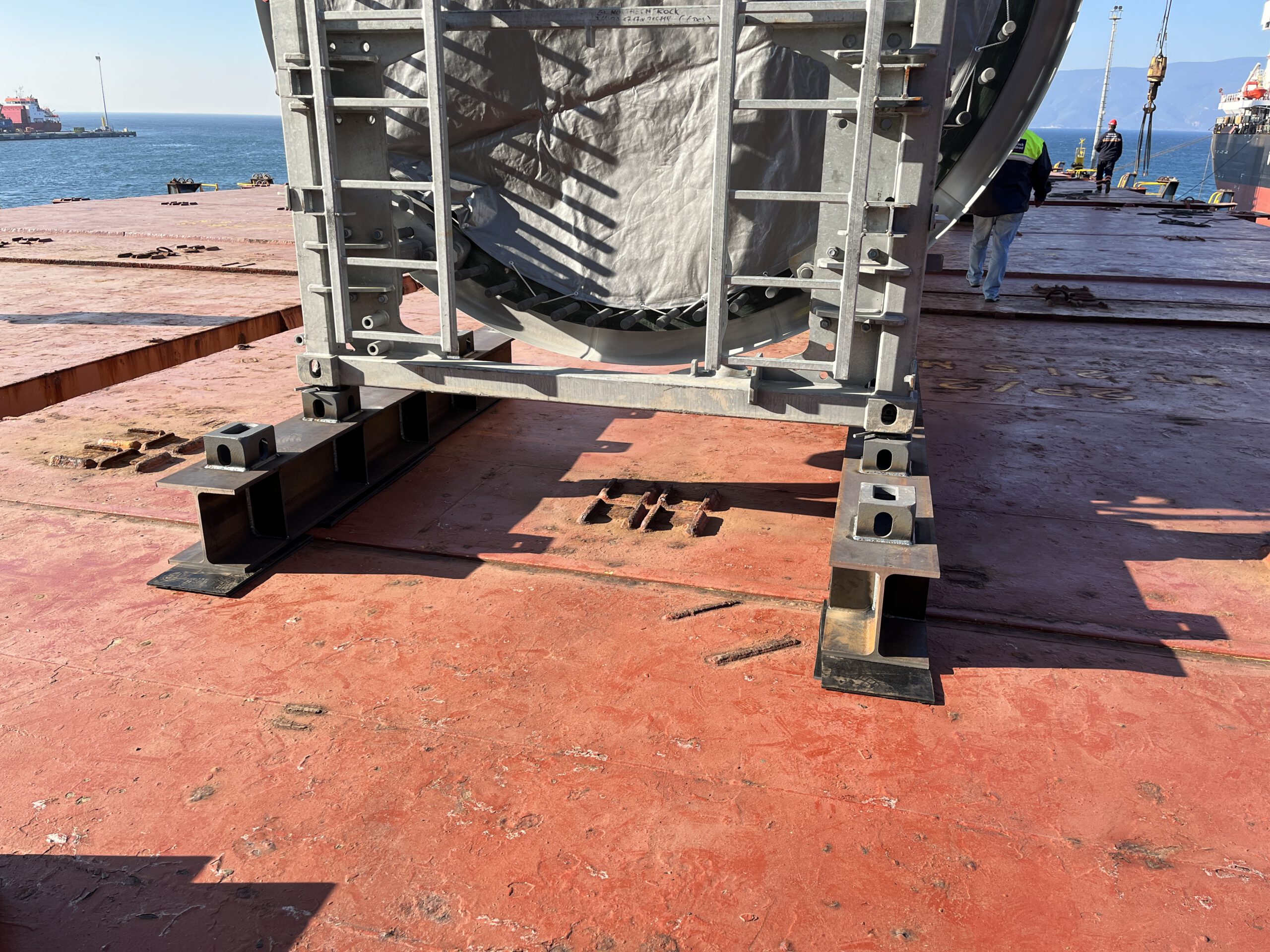 Lifting plans and cargo handling equipment: Safe lifting of project cargo 
Special measures are often necessary to ensure  the safe lifting of project- / heavy-lift cargo. We offer you individual solutions which will enable us to carry out the cargo handling proper and professional. Our experts have in-depth knowledge of the preparation of lifting plans for cargo handling equipment, e.g. in crane operation. We meticulously analyze your planned loading- / lifting project, as well as the lifting requirements needed for it, and give you recommendations on the type, number, and capacity of load handling equipment, such as shackles, round slings, or chains. At your request, we can also design and construct special cargo handling equipment, such as lifting beams, to ensure the safe and efficient handling of your project- / heavy-lift cargo. 
Strength analyses: Precisely determining the stresses on a structure  
The scottish scientist, inventor and engineer – Alexander Graham Bell, once said: "Above all, preparation is the key to success". Following this motto, reliable design is the foundation and key to success of any project. We ensure this, by applying proven simplified procedures as well as further complex methods, such as finite element analysis (FE-Method), which are part of the design process for strength and deformation analysis. The FE-Method allows us to determine a precise representation of the stresses in mechanically loaded structures and reveals potential weak points.  In this way, the structural strength is checked as part of the verification process and the reliability of the design is guaranteed. On demand we also check the feasibility of third-party designs for you. Please do not hesitate to contact us. 
Vessel equipment and special components: From design to production drawing 
We are specialized in the design and construction of various types of equipment for your vessel or maritime project, be it cable transport, cable-storage and -laying equipment, working platforms, boarding hatches, general steel structures such as frames and racks, or other marine equipment. Thanks to years of experience and comprehensive expertise in the various areas of maritime shipping, we understand your needs quickly and provide you with flexible support. In close cooperation with our customers, our team creates a bespoke documentation package (e.g. set of drawings including part lists, strength verifications, etc.) that is specifically tailored to your project goals. 
Access and boarding solutions on vessels 
Safe and efficient access to various areas on ships is of particular importance for the seamless execution of operational and maintenance processes, e.g. in the offshore and nearshore industry. Access solutions play a crucial role in enabling crew members and technicians to access engine rooms, cargo holds, decks, and other working areas. We design the appropriate stairs and ladders, including special access and connection structures. In addition, we design individual Boat Landings, i.e. custom-made landing points attached to the hull of workboats and pontoons. These landings act as connection points, to safely transfer passengers, crew members, and cargo between objects (e.g. vessels, wind turbines, etc.). In addition, Boat Landings are designed to absorb the forces generated by an approaching boat or ship. Based on the specific requirements, our engineers design a suitable and safe access solution. 
Compliance with industry and classification regulations: Customer satisfaction through high-quality standards. 
We always work in accordance with officially recognized industry and classification regulations. Societies such as the International Organization for Standardization (ISO), the German Institute for Standardization (DIN), or European Standards (EN) set standards for the design, dimensioning, and construction of steel structures and steel buildings (e.g. DIN EN 1090-2, DIN EN 1993-1-1 EUROCODE 3). These standards specify requirements for materials, load capacities, safety factors, weld verification, and other relevant aspects, which our engineers apply during the design process.  
At Hanse Survey, customer satisfaction is our number one priority. We provide fast, flexible, cost-effective, and tailored solutions to the unique challenges of the transportation and maritime industries.   
Contact us, we want to help make your next project a success.